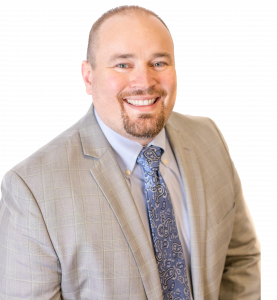 Meet Aaron Wight
Aaron has been in mortgage finance for 20 years and has since funded over $500 million dollars in loan volume. Aaron is adept at keeping current in a changing market and understanding the challenges involved in today's financial landscape.
In the recent past, Aaron has served in our community in a variety of ways. Aaron volunteers with middle & high school students at his church. Aaron is an Eagle Scout and has been active in boy scout leadership assisting the young men to advance their ranks to Eagle Scout over the years. Much of his involvement in the past for the scouting program was teaching young men how to serve in the families, communities, and nation where they reside.
Aaron donates his spare time, money, and resources to several nonprofit organizations including Churches, Youth Groups, Children's Hospital, Olive Crest, Housing Hope, The Bridge Receiving Center, Boy Scouts of America, Boys & Girls Clubs along with many other organizations and/or individuals where needs arise. A more complete list can be found under the "Community" tab above. One of Aaron's favorite projects in recent years was being a part of purchasing and building a large playground swing & slide set for The Bridge Receiving Center of Hwy 92 near Granite Falls, WA. This playground set will be used by foster children staying there who stay there while waiting to find a more stable place to live due to various circumstances. Aaron recognizes the needs are great in our communities, our nation, and the world we live in and hopes to continue serving as long as he can.
Aaron's pride and joy are his children Brayden, Jake, Rea, and Aaron Jr. Some of their favorite family activities are crabbing in the Puget Sound, fishing in Canada, Alaska, the Puget Sound, and RV glamping. His oldest graduated from Lake Stevens High School in 2022 and his youngest will be a freshman next year in the Lake Stevens School District. Born in Southern California, Aaron was 5 when his family moved to Everett, Washington. He remained there until he graduated from Cascade High School in Everett, Washington in 1998. Aaron is one of 7 children and lives near his parents where he grew up in Snohomish, Washington.
Call me
Office: (425) 582-2420
Cell: (425) 923-7100
Fax: (425) 582-2484
Visit me
3400 188th St SW, Suite 101
Lynnwood, WA 98037
Licensing
Sales Manager/Sr. Loan Consultant
NMLS: 99465
Licensed in AK, AR, AZ, CA, CO, FL, GA, HI, ID, IL, MI, MT, NV, OR, TN, TX, VA, WA, and WY
"Aaron is just who you want helping you navigate the financial waters of the home buying process. He is very responsive, friendly, easy to communicate with and knowledgeable. I would highly recommend him and am grateful that Zillow helps us find great professionals like him!"

Amy H.

"Aaron and his team at Capstone (especially Brittany Wilcox) provided outstanding service during our home purchase process. We did the whole process remotely from out of the country, working with a 16 hour time difference, and still received almost immediate responses to any inquiries. There were no issues and we closed on time. He is very knowledgeable and professional."

Sherry S.

"From beginning to end, Aaron was AWESOME! He truly cared and always showed patience and willingness to go the extra mile to help us, meet with us, and answered all our questions! Kudos to you, Aaron! ??"

Tomas M.

"Aaron is straight forward, good problem solver and creative. Great support staff that adds a personal touch!"

Suzanne J.

"

My wife and I were referred to Aaron when we started looking for our first home. Aaron was prompt to get back to us and throughout the whole process everything went as smoothly as I imagine it could have gone. His team always quickly answered any questions we had and got all documents to us in a timely manner. He went over multiple mortgage options with us in a format that was easy to understand. We are very happy with his service and will be back when we have future needs. Thanks Aaron!

"

Danny D.

"From beginning to end, Aaron was AWESOME! He truly cared and always showed patience and willingness to go the extra mile to help us, meet with us, and answered all our questions!"

Tomas M.